McKinsey
's recent article on issues arising from high-tech supply chains contaisn very useful information for logistics operators and consultants. As always, it is important for logistics service providers to understand the issues arising from specific business sectors in order to provide the most cost-effective and efficient services:
The supply chains of high-tech companies are globe-spanning marvels. Over the past 20 years, looking for ready sources of components, lower-priced labor, and talented designers and engineers, these companies have ranged throughout the world. In a highly competitive and fast-moving marketplace, they have sought to maximize their strengths and flexibility as products change rapidly and prices continue to fall.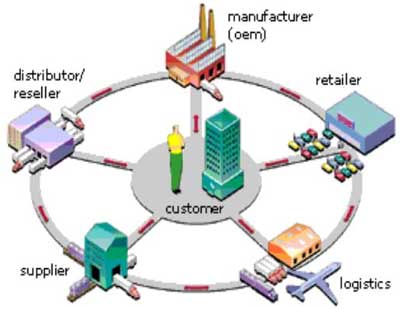 Pictogram sourced from here.

But the sprawl and complexity of such networks have made it harder to manage end-to-end operations smoothly. Many technology companies are grappling with volatility and disruptions across their supply networks, and eliminating waste from duplicative efforts is an ongoing challenge. As product life cycles shrink, we see inventory buildups in the supply chains of some companies, while others cope with rising distribution costs, on-time delivery problems, or delays in getting new products to market.
In fact, high-tech companies have let complexity undermine collaboration in their supply chains: they aren't working as closely as they could with their supply chain partners—sharing information or streamlining processes—to smooth out volatility and eliminate waste. This failure is surprising. The high-tech industry creates products that promote collaboration, openness, and efficiency. We all know stories about companies in other industries such as retail and consumer-packaged goods that have improved their operations significantly by using technology to collaborate more closely with suppliers—yet high-tech companies have been slow to follow. For a host of reasons rooted in the way they are organized and compete, their executives have been less than enthusiastic about pursuing the benefits of collaboration with their supply chain partners.
This lack of enthusiasm is fast becoming more costly for OEMs. Even as product life cycles shrink, consumers are demanding products with new features (such as mobility, greater storage, and more memory) that make products ever more complex. As this complexity increases, it will become harder to manage supply networks, opportunities will be missed, and supply chain costs will rise. The path to improvement, we suggest, lies in better collaboration with suppliers. To achieve it, companies should address their internal challenges and then deal with key stress points that strain supplier relations.
Read more
here
.